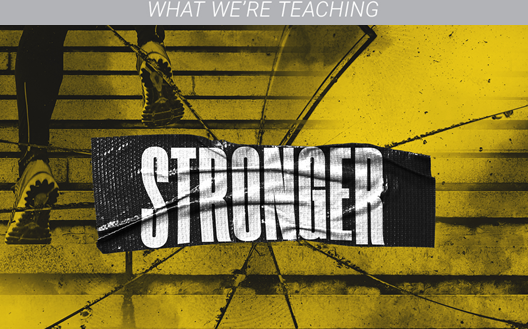 Youth Group is held on Sunday evenings at the church from 5:15-7:15pm. Steve Dibblee & other adult helpers led the group through fun activities and Biblical lessons which parents are given advance notice of topics. Snacks are provided during this time. Feel free to
check out the "New Hope Fellowship Youth Group" facebook page -"New Hope Fellowship Youth Group" to see past activities. It is a great time for the youth to connect and encourage each other in their walk with the Lord.
Time to introduce our new series starting Sept 15th.
STRONGER: In this 4-week series, we'll talk about how, when life hurts, or goes wrong, or doesn't make sense, these things are true:
* Jesus can redeem what's gone wrong
* God can be trusted
* God gives us each other
* God helps us persevere
Have a wonderful week!
~Steve "Dibbz" Dibblee~ | ask.dibbz@gmail.com | 815.761.0125 – Call or Text
Parents, if any of you ever need anything, or have a question. Please do not hesitate to reach out to our youth leader Steve. To subscribe to the student ministries newsletter click here.